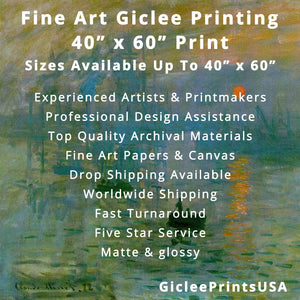 Only The Finest Archival Materials Used
Our archival Giclee Printing Service is for printing YOUR supplied images, ideal for artists and photographers. Our giclee prints are each hand made in our own studio on state-of-the-art equipment. We print your images on one of our 3 Epson high-end printers, our service is perfect for artists and photographers, or anyone who needs high quality fine art giclee prints.

We only use archival paper and canvas, and use Epson Ultrachrome HD inks, and when combined with the media we use, provides an archival product that we guarantee from yellowing or fading for 100 years. If any of our prints every yellow or fade, we will replace it.

Sizes Available Up To And Including 40" x 60"
We offer our giclee prints in sizes from 5" x 7" through 40" x 60" with your choice of matte or glossy finishes, on archival fine art paper or canvas. We use Epson Exhibition Canvas for all of our canvas prints. We have all standard sizes listed, however, we can accommodate any size you need up to and including 40" x 60". While this listing is for a 40" x 60" print you can order any size you need using the Size Drop Down Menu.

Complimentary Professional Design Assistance When Needed
We offer professional design assistance when required and ship worldwide the day after your paid order is received. We offer only 5 star service, please see our many reviews since we opened our shop in 2015. We also offer drop shipping and will suppress all of our branding when you request your print(s) to be drop shipped.

Include YOUR Branding Materials For Drop Shipping
By pre-arrangement we will include our own branding materials, just message me for details. Our goal for artists and photographers is to make their print fulfillment easier so they can focus on creating more products and more sales.

How To Send Us Your Images
After you place your order, and have sized your image to match the size you ordered, please email either a link to your online storage like DropBox, or email your images directly to me at steve@GicleePrintsUSA.com. Alternatively, you can also place your order AND upload your images on our Order Giclee Prints Page.
We will pre-flight your images and notify you of any issues or concerns. Be sure to send images at a minimum of 300 dpi, 600 dpi is even better.